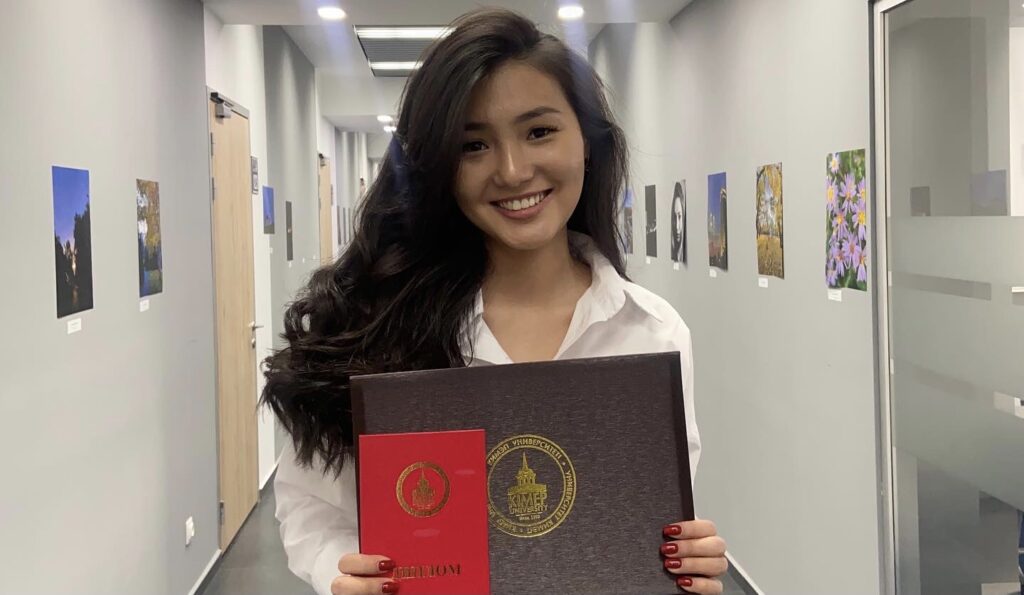 The feature of the BISB program is its uniqueness – Anara Agibayeva
In today's interview, we will tell you about another graduate of our "Nurali Aliyev Bachelor of Information systems in Business" Program (hereinafter – BISB). Agibayeva Anara is the owner of a 100% scholarship funded by KIMEP University. In 2018, she successfully entered newly announced BISB program. And now, after 3.5 years, she successfully graduated with a bachelor's degree. In addition to maintaining a high GPA, during her studies, Anara also managed to get an internship in several large companies and participate in various case championships. ZHANARTU Foundation talked with a future IT specialist in business.
ZHANARTU: Anara, first of all we congratulate you on your excellent graduation! Please share with us your feelings/emotions?
– Thank you! I graduated from KIMEP University during 3 and a half years. I feel happy and sad in my heart at the same time. It is sad that my student life is over. Life at KIMEP University is very rich in events and fun. On the other hand, I am glad, because a new stage is beginning in my life, in which I am waiting for my professional growth.
ZHANARTU: What are you planning to do now in terms of choosing a profession and a dream job?
– A student graduating with a Bachelor's degree in information systems has a wide range of different areas to choose from. I am personally interested in big data management for right now. Big data analysis helps to predict customer behaviour, increase sales, detect fraudsters and prevent production accidents. Analysis is necessary for the development of every business. After graduation, I received several job offers: from a construction company, financial agencies and second-tier banks. I am very glad that I have the opportunity to choose the best employer. After all, a good start in a prestigious company is very important for a future career.
ZHANARTU: Tell us more about any events/work cases where you needed to use the knowledge gained under the BISB program.
– Last spring, I went in for the competition from Samruk-Kazyna. I did my internship as a project manager in the field of information systems. I was involved in a project to implement ITSM (a system to automate processes for processing user requests). I studied business processes and developed flowcharts. After that, I was an intern in the Technology department of one of the Big Four companies – KPMG for three months. Thanks to the subjects I studied in the BISB program I already had a good knowledge base and it helped me in my work. I worked a lot in Excel, SQL programs.
ZHANARTU: Which subjects have you found most interesting? Do you have a favourite professor?
– I liked the Decision Support Systems discipline taught by Dana Baizyldayeva. In this course, we learned how to use such programmes as Tableau, Power BI, Google Data Studio, and advanced Excel. Dana Baizyldayeva herself is a very responsive and competent professor. I would also like to commend Professor Suleimen Kaiym who helped us to master programming skills on real business cases. We studied PL/SQL, Kotlin, and Cisco Packet Tracer in his classes.
ZHANARTU: What would you advice a student who can't decide on a course of study?
– It is indeed not easy to choose a course of study. In the first place, I think you should choose a few professions based on your interests. After that, you should find out more information about them. Equally important is to find an answer to the question "Will it be in demand in the future?". I think that exactly in the next 20 years everything related to IT will still be relevant.
ZHANARTU: What was the most difficult part of your studies and how did you overcome the difficulties? Was there support from teachers/parents/friends?
– In general, IT is not easy in knowledge. It is a field that requires constant development. When I had difficulties in my studies, my classmates and friends always helped me. According to the university policy, each teacher has special office hours, during which students can come and ask questions of interest. Special thanks to my parents, who always support me and believe in me!
ZHANARTU: Girl in IT – is it already a reality?
– Yes, it's real. There are so many women working in Silicon Valley now. I am glad that in Kazakhstan, the number of girls in this field is increasing every year too.
ZHANARTU: Tell us a few words about KIMEP University. What are the features of the university in your opinion?
– KIMEP provides education in accordance with the American credit system of education. Students make their own timetable at KIMEP. It is very convenient. You can easily find like-minded persons and good friends at University. KIMEP creates an excellent environment for the formation and development of personality. I want to express my deep gratitude to my beloved KIMEP University for the quality knowledge and interesting student life.
The feature of the BISB program is its uniqueness, which is not found in other Kazakh universities. Many thanks to Nurali Aliyev and his ZHANARTU Foundation for the initiative in creating such a promising and unique undergraduate program in Kazakhstan and the opportunity to study it among the first signs.
ZHANARTU: Finally, some advice for a BISB student.
– I advise BISB students not to be afraid of choosing difficult subjects from strict professors. As they say, the harder the training, the easier the mission
ZHANARTU: Anara, thank you for your responsiveness, determination and excellent study! We wish you success and further victories in your future career!
To remind, "Nurali Aliyev Bachelor of Information systems in Business" Program (BISB) was launched at KIMEP University in 2018. The program provides for the study of such disciplines as database management, supply chains, programming, statistics, e-business, cloud technologies and other relevant disciplines.