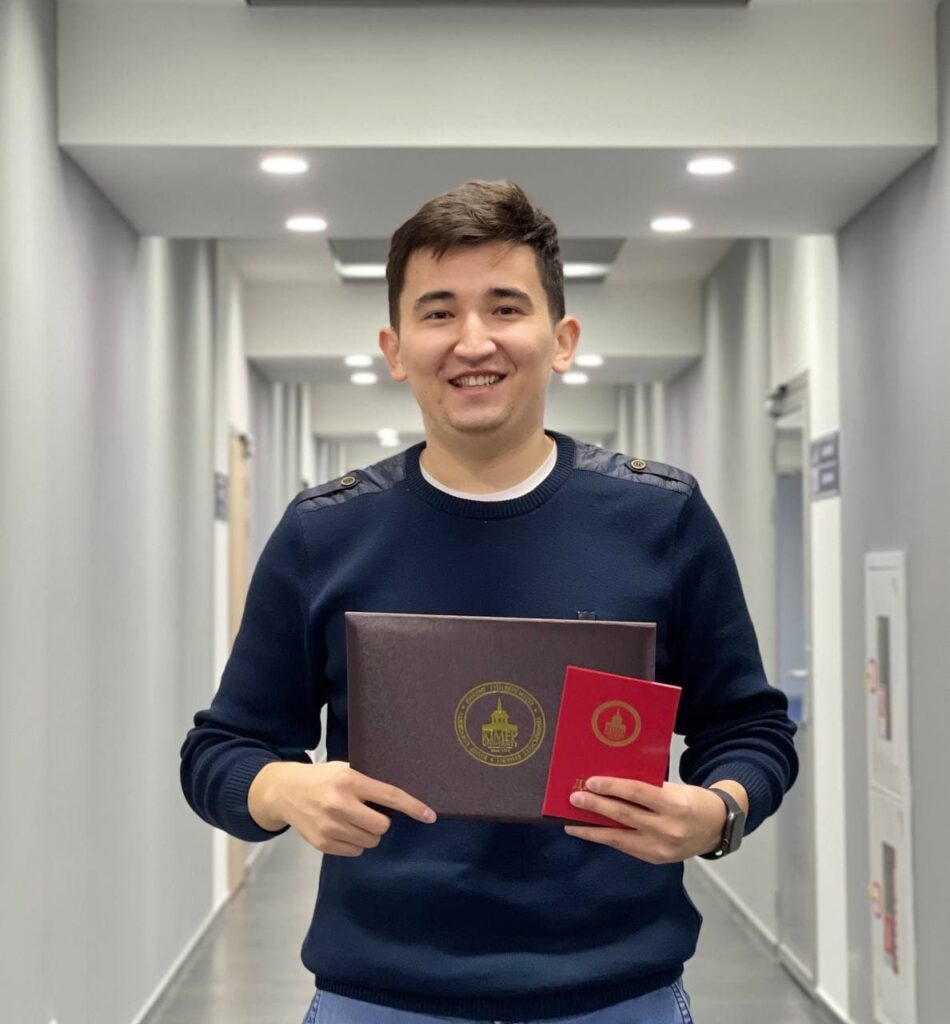 Doszhan Serikbek: "After completion of BISB I had many business IT-ideas"
Recently, Doszhan Serikbek received his honors diploma, our third graduate of the Information Systems in Business program of KIMEP University and holder of ZHANARTU scholarship. In 2018, Doszhan came to enroll in the BISB program from sunny Shymkent. Now he was invited to work by the largest pharmaceutical company SANTO in Kazakhstan.
 ZHANARTU: Doszhan, please accept our congratulations on the excellent completion of your studies! What are your plans for the future?
 – Thanks. You know, I had a lot of ideas in my head about which way to go, I would like to grow as a person and continue to develop my skills. After completing BISB, I had many IT business ideas. But, first of all, I would like to try to gain real experience of working in a large company. I hope the experience gained will help me in the future to start my own business and make my business dream come true. At the same time, I know for sure that I want to help people living in villages or districts, giving them the opportunity to study the IT sphere. Who knows, it's probably from the countryside that we'll have legendary IT specialists and businessmen.
In fact, I was invited to several large companies, among which were the head office of Transtelecom JSC in Nur-Sultan, as well as the pharmaceutical company SANTO in Shymkent. To be honest, it was not easy to make a choice. On the one hand, a prestigious work in the capital in one of the largest telecommunications companies in the country, on the other part, a decent work in the largest pharmaceutical company in his hometown, where are close, relatives and friends. Having carefully weighed all the pros and cons, I still decided to stay in my native land for now. From now on I take up the position of Planning and Analytics Manager at SANTO.
ZHANARTU: Let's talk about KIMEP. What skills did academic life teach you?
– If we talk about skills, then I can single out the 5 best skills that I acquired at the university.
First of all, it is the ability to search and find. We were all students and were faced with the fact that at the university they do not bring us all the information and all the books, like at school, from where we have to read and memorize everything. There was no definite template, we were constantly looking for something to find out what's what.
The second is goal-setting. I graduate with distinction with the ability to set goals and priorities. I have always set myself the goal of completing my studies ideally, but at the same time not forgetting about time with family and friends and making new acquaintances with interesting people.
Thirdly, it is a performance in front of an audience. Before I went to university, I was terrified even to speak openly to two people. But at KIMEP, I often had to speak and present projects and presentations. Over time, I developed a certain sense of freedom, and I think that I overcame stage fright only thanks to experience, training and time.
One of my acquired skills is a technical education. How can it be without it? I can say unequivocally that now my path as a specialist in the field of business analytics has started. Already now I own work in many programs and tools, such as Excel, Power Bi, Qlick Sense, etc.
Finally, the last thing on my list of skills was added stress resistance. And although this quality has already become a kind of cliché and is present in every resume, in fact, not everyone has it. Discussions, deadlines, phone calls, and researching information all hone your stress tolerance skills and really prepare you for adulthood.
ZHANARTU:  Did you manage to implement any projects while studying at KIMEP or apply your skills in real work?
– Yes, during my studies I helped to automate the business of one of the supermarkets in my hometown of Sarayagash. I needed to replace outdated written records with computer records. Automation was not an easy task, because not all local people understood how to keep records automatically, many did not even know how to use a computer.
I bought equipment for receipts, monoblocks, scanners, and most importantly I negotiated with suppliers who offer automation services. Now the supermarket is working perfectly, no thefts or complaints. All this was done by me in just two weeks, and I'm glad I got such a great experience!
ZHANARTU: Did you enjoy the BISB program training?
– Yes, I am very glad that I learned to work professionally with a computer, code, create websites, programs, as many IT specialists do. The advantage of the BISB program is that it allows students to develop the necessary business skills and at the same time study the IT sphere.
Good luck to you, Doszhan!