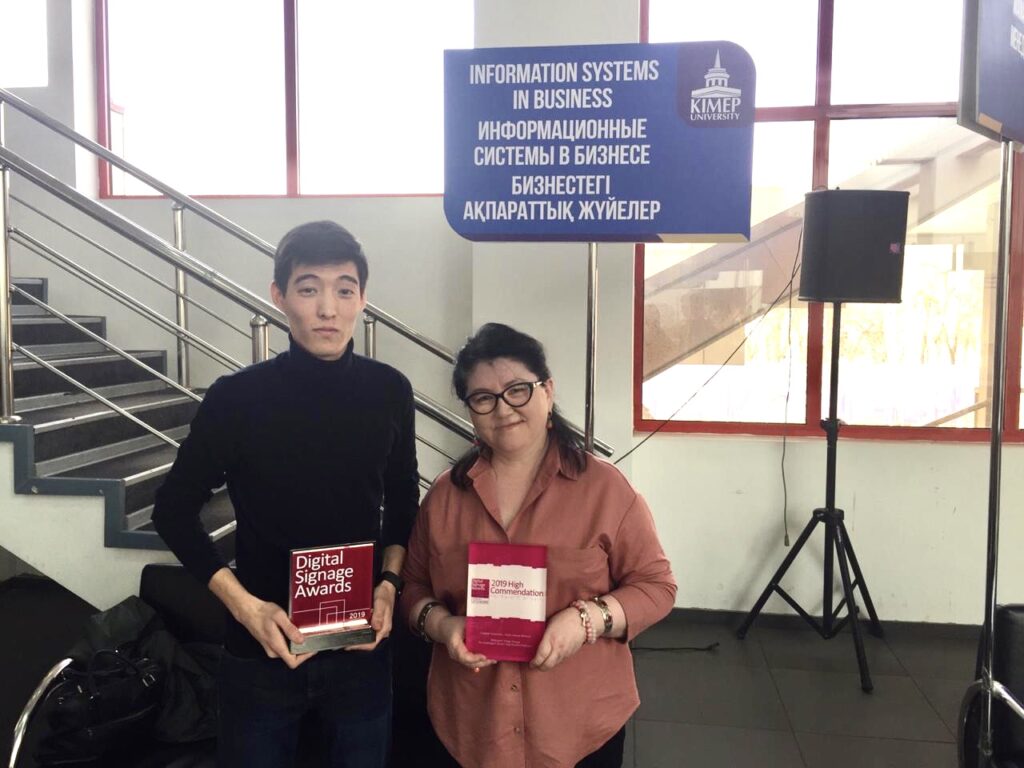 "We have very talented, hard working and creative graduates" – professor Uldana Baizyldayeva
Fall 2021 semester for "ZHANARTU" charity foundation and KIMEP University started with the joyful news: the total number of students in the bachelor program "Information Systems in Business" exceeded the mark of more than 100 people! Our program is becoming more and more popular among young people, and, no doubt, KIMEP professors make a titanic contribution to its development. Uldana Baizyldayeva, Ph.D., is one of the most beloved and popular professors at the BISB program. Her lectures inspired students to open their own startups, or devote themselves to digital graphics and programming. Professor Dana has been working at KIMEP University for more than 13 years. It was a great honor for us to interview her first and ask her opinion on the prospects of the BISB program.
ZHANARTU: Dear professor, thank you for your valuable time to answer our quick questions. First, could you please briefly tell us about the subjects you teach? 
– Thank you for giving me the opportunity to share with my story. I teach general required courses like "GEN/OPM1300 Information & Communication Technologies", "IFS2203 Management Information Systems",  "Math1202 Calculus",    and  special  courses like  "IFS4204 Decision support systems", "CIT2731 Digital Graphics in Business",  "IFS 2204  Algorithms, Data Structures & Programming",  "CIT2735 Introduction to Programming",  "Math1204 Mathematics for  Computer Science", "CIT2733 Survey research with SPSS", "CIT4215 System Analysis & Design".
ZHANARTU: What do you like most about your work?
– I like sharing my knowledge and skills with students, who are our young generation.
ZHANARTU: Now please tell us your secret thing: do you use any special methods or technologies in your lectures?
– It's simple: I like to teach by doing, by showing, discussing with my students different solution approaches, different solution methods of the problem.
ZHANARTU: How do you motivate your students?
– I like giving students a chance to get bonus points for deciding task problem, sometimes allowing students to work in teams, or individually, and then giving students an opportunity to share their ideas.
ZHANARTU: Bonus points and team work are always student's best friends. Let's talk about BISB students in particularly. What topics are our students most interested in and why?
– There are many fields BISB students are interested in: bitcoins, block chain; UI, UX design; AI, BI, DSS systems; programming in Python; IS security and other IT fields.
ZHANARTU: You've been working in teaching almost for whole your life. From your point of view, what personal qualities should a good professor have?
– High proficiency, willingness to work hard on improving own knowledge, skills, responsibility, honesty, kindness, openness to students' requests.
HANARTU: What do you consider the greatest achievement in your teaching practice?
– Achievements of our students at work, at internships, at different contests, Olympiads.  I am very happy when my students come to my office to share with me with their achievements.  I can set one example of  the relatively recent achievement  of  our  KIMEP graduate  Malbek  Sanat,  whose two startup business projects  won both the  Grand Prix and  1st  place  at the  annual international  "Digital Signage Awards"  contest  in  Amsterdam  in February 2019.  That time we just launched our new program of BISB – bachelor of information systems in business, but Sanat was graduating KIMEP with minor in IS, and he took many special IS courses.
I am proud of the achievements of our graduate Dinmukhammet Zholdybay, who created a web platform on Covid for the medical department of the South Kazakhstan region. I know that each of the listed graduates has made a significant contribution to the development of the companies' business.
I was also especially proud of our first graduates – brilliant students of our program –Dinmukhammet Zholdybay, Alua Nurbekova, Abai Saniya, Serikbek Doszhan, Ivannikov Danil. I am sure they will become a worthy role model for all future BISB students.
ZHANARTU: What is the ideal student for you?
– The ideal student in my opinion is a workful, attentive, accurate, honest, keen to get new knowledge and skills.
ZHANARTU: Please share your opinion about future perspectives of the BISB program.
– I believe BISB  program will  be improving as  IT, IS  are always improving. We  will  launch  more  and  more  new  courses  in accordance  with  improvement  of  technologies. Now we  offer   several  programming languages courses including Python, C++, Decision Support Systems, Business Intelligence Systems, Visualized OLAP systems in  the  course  of  Digital Graphics in Business, Big Data Analysis, Web technologies in business, and some  other up-to-date courses.  We  will  pay  particular  attention  to data science, big data analytics, AI  systems, system  security, mobile  technologies courses. I believe  our  BISB program graduates   will  be  successful  in  their  future career.
Students at our BISB program are very talented. And we are happy that we have very talented hard working creative graduates. We wish them success.
I would like to express my appreciation to «ZHANARTU» foundation and personally to Mr. Nurali Aliyev for such big support of our new BISB program  and support of our students. I wish the fund success and prosperity.
I would like to express my gratitude to my KIMEP university, to Dr. Chan Young Bang for support of BISB program, for possibility to utilize  creativity  in  design and  teaching  of  our  special courses.
ZHANARTU: Thank you, professor Dana for supporting "ZHANARTU" initiatives and your huge contribution into BISB prosperity. We wish you the best luck as well!